Starting in the summer of 2021, Crumlin Community Cycles are short group bike rides of roughly 5 kilometers in length. They take place weekly on the quieter streets of Crumlin, Dublin 12. They are organised by a small group of Crumlin-based cycling advocates who
were inspired by the energy and enthusiasm of the hugely successful D12 Bike Bus. The Community Cycles are open to those young and old of all cycling abilities.
Aims include:
Encouraging neighbours and friends to get out as a group and cycle in Crumlin
Increasing the visibility of cycling in Crumlin, taking advantage of the many small and largely traffic-free residential streets
Improving cyclist confidence both in riding a bike and also in carrying out basic repairs such as pumping up a tyre or raising a saddle
Encouraging parents to get out and cycle with their children
Crumlin Community Cycles meets regularly, exploring the neighbourhood on two or three wheels, and sometimes venturing further afield. From Christmas lights to the Patrick's Day parade, Crumlin community coming together to cycle has had an eventful few months.
Everyone is welcome to take part in these gentle, family-friendly cycles. Follow the adventures on Twitter or Facebook for updates. This local community group usually meets on Sunday mornings at 11am in the middle of Bangor Circle. If you haven't been on a bike for a while, or are nervous of cycling on the roads, this is a chance to cycle with a supportive group and pick up tips for good routes around the area.
Christmas Lights
In the deep midwinter, on the evening of 19 December, Crumlin Community cycled together on a gentle spin around Crumlin to admire all the beautifully-decorated houses. From the magnificent Tree of Crumlin beside the Garda Station, we went west to Poddle Close with the festive streets of Blarney Park and Clonfert Road in-between. Then on to the magnificent 'Josie's House' of Rathdrum Road before turning back to Clogher and around Bangor Circle, to see magnificence at Lismore and Innismore before back to our Tree. What a night!
Paint the Town Green
On Sunday 30 January the community cycle took a lovely fine loop from Bangor Circle. First, heading north for Sundrive, turning back along Kildare Road before breaking left through Pearse Park. Then gently downhill across Windmill Road into Windmill Park and through the gap into Crumlin Village, and back up towards Clonmacnoise before stopping in to help Bloomin' Crumlin paint the community container a lovely shade of green.


Big Red Community Cycle, in solidarity with Salthill
On Sunday 13 February, supporters of active travel infrastructure in Galway took to their bikes in Salthill to highlight the need for a safe segregated cycle route in the area. Crumlin Community cycled in solidarity at the same time, donning red clothes to show our love for infrastructure that enables more people to experience the joys of cycling. With participants young and not-so-young, we took a leisurely spin around the area before conveniently ending up between the coffee shop and the playground in Éamonn Ceannt Park.


Break Out Your Bike for Spring
Bike Maintenance at the Orchard Project tree distribution day
Thanks to Andy, Owen and Damien who gave freely their time, and lent their (international) skills and expertise, to make cycling a little bit easier and safer for Crumlin residents. Between 11am and 4pm on Saturday 5 March they carried bike tune-ups to over 40 bicycles that their owners brought in on the day to get them ready for the spring and summer weather.
Grand Canal Cycle
A Crumlin delegation featuring an international guest joined with Dublin Cycling Campaign's Grand Canal Cycle on Sunday 6 March. Enjoying the sunshine, we met the rest of the group at City West, then cycled along the beautiful Grand Canal all the way to Griffeen Park in Lucan, admiring the canal's wildlife all along the route.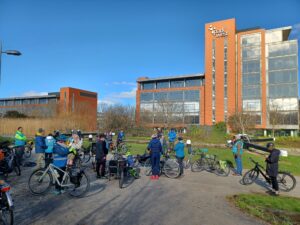 St Patrick's Day Parade
A group of 16 people from Crumlin crossed the city by bike on Patrick's Day to take part in Dublin Cycling Campaign's 'Joyce Cycle' pageant in the Parade. Dressed as characters from Ulysses, we enjoyed being briefly famous as we very slowly cycled through the city centre, having our photo taken and getting waves and claps from the very enthusiastic parade audience. This was also the debut public appearance of our new community e-cargo bike, sponsored by Canada Life Reinsurance.
D12 Bike Bus 
Our friends and neighbours in the D12 Bike Bus Network held a Bike Bus is Protest day on Friday 1 April at 7:45am. Joined by over 100 members of the Dublin 12 community, Netherlands Ambassador to Ireland Adriaan Palm, Lord Mayor of Dublin Alison Gilliland, and Mayor of South Dublin Peter Kavanagh, this large group of children and adults took to the roads to demonstrate the need for better, safer cycling conditions in the area.
The Bike Bus is parents and children, banding together, supported by volunteers, so that they can cycle safely to school.