We work we DCC to plant and maintain the planters around Crumlin. DCC supplied the planters and we work with DCC and the local area office to pick locations that are lacking in public greenery and trees. Volunteers adopt planters and guided by Mary, Tina and other volunteers they keep the planters watered, replant damaged plants and keep them looking fantastic. Plants are paid for from donations from local businesses.
Scoil Íosagáin planters
Thanks to volunteers Beta and Alex for buying, erecting and organising the planting of these beautiful hanging planters on Scoil Íosagáin railings. This initiative is part of the Lower Crumlin survey that we undertook with residents last year and if successful we will look to expand this throughout the area.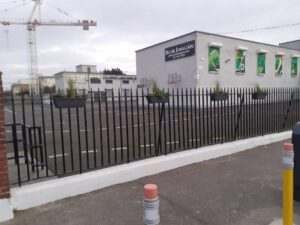 Armagh Road Planters
On a cold winters day to the students in Rosary College for planting all the twelve large planters along Armagh Road with bulbs and bringing a well needed blast of colour to the area support by Bloomin' Crumlin. Thanks to David and Carmel  in DCC for providing the spring bulbs.
Date: Early 2021 – present
Thanks:
Wooden Planters:Bloomin' Crumlin Volunteers – Angel, Katrin, Laura, Mary C, Mary F, Maeve, Paula, Sandrine and Tamsyn., DCC – Robert Chester, Brian Mason Services.
Metal Planters: DCC Parks, Rosary College, Carmel DCC, Michelle
Scoil Íosagáin: Beta, Alex
Status: Ongoing